Rugged tablets have become one of the most popular company-issued assets in workplaces nationwide.  The differences between tablets and enterprise-class rugged tablets however are still misunderstood.  People enjoy both in their leisure time for surfing the Internet, watching videos, checking email, connecting with friends and other activities.  And those are all great uses, typically outside of a company's four walls.
However, many people do not realize how versatile tablets can be at the enterprise level when utilized for work-specific tasks and functions.  In warehouse settings, tablets can act as a virtual mobile workstation on-the-go, allowing users to run essential operations, manage business analytics, work together with other staff and even operate machinery.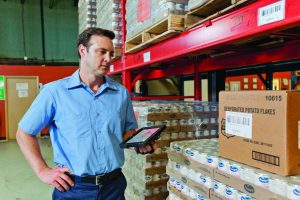 Yet, rugged tablets are durable enough to take heavy physical contact, handle water submergence and run within extreme environments and temperatures.  Their processing and memory capacity outperform consumer devices;  this is key when wielding workforce software and applications to manage fulfillment operations, such as Warehouse Management Systems.  The intangibles, such as what Zebra Technologies' portfolio provide even more value above consumer tablets.  Barcode and RFID scanning, built-in fingerprint readers with multi-factor authentication, Kensington lock slots and removable PCIe solid state drives for security are just the tipping point.
Here's some of the most commonly seen uses for rugged tablets today in warehouses.
Inventory Management on Rugged Tablets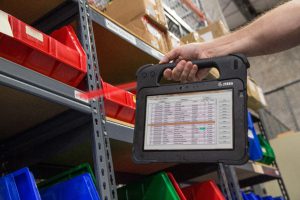 To run an warehouse, you need a comprehensive, standalone inventory management program and/or a Warehouse Management System.  The software is indispensable; the best versions can manage the day-to-day operations across the entire worksite.  With it, you know what's happening with receiving, put-away, picking and shipping.  Plus, it keeps tabs for you on replenishment, so customers are never left waiting longer than they expect, due to stock issues.
While handheld devices like mobile computers can provide a lot of this info from your WMS, they'll never beat the details your rugged tablet can show you.  Rugged tablets can also perform efficient cycle counts, track perishable items and manage your stockroom.  In mere seconds, you can locate an item without having to physically move first.  This alone is a benefit to preserving the physical state of employees for entire shifts, not to mention the team's morale by eliminating mundane, unnecessary steps to completing job tasks.
Order Fulfillment/E-Commerce – The Desktop Experience on Rugged Tablets
Timely fulfillment is a key indicator of well-run warehouse operations and your e-commerce system is critical to making it so.  E-commerce platforms connect customers to the business, warehouse and beyond, accepting payments, processing orders up to their final delivery date and serving as a home for customer interaction(s).  With so many moving parts constantly in motion in the typical warehouse, workforce tech bridges these gaps.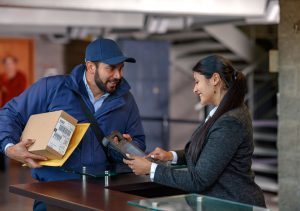 Rugged tablets can play a huge role in this process and give you the flexibility you won't find with other types of devices.  Tablets provide the same (or similar) desktop experience as you would find in your back offices or warehouse floor terminals.  Though handheld devices today have incredible feature sets than their predecessors years ago, rugged tablet users benefit from a more comprehensive look of what's going on from your shelves, the loading dock and all the way through the shipping and final delivery process.  And if you have not used rugged tablets for customer service roles, it's worth taking a look because of the accessibility they provide compared to rugged handheld mobile devices.
Asset Management; Control Your "Things" From Anywhere With Rugged Tablets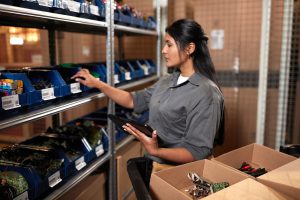 Inventory management is critical to business operations; asset management ensures the tools you use to complete them can be easily located on-site, are available and in working order.  From barcode scanners and laptops to forklifts and even vehicles, these critical capital investments need to be accounted for.  The problem often is, there's simply too much to track without a centralized system of accountability that isn't a pen and paper process.  With poor asset management practices comes increased labor costs, equipment losses, and the potential for unneeded spending on duplicate assets.  Needless to say, you need your assets to be ready for use every day and rugged tablets can help.
Rugged tablets and the right asset management software allow you to keep track of your assets, so you know where they are, who has them, and when you can expect these tools back in the employee pool.  Further, given their touchscreen nature, employees, vendors and company guests can use a stylus to sign in and sign out equipment, verifying the user and time stamping the occasion.  A rugged tablet can also help you track the physical condition of your tools, to avoid downtime that can hurt production.  Certain rugged tablet models might include digital cameras; employees can thus capture images of their assets and store them either in their asset management platform (if it allows) or in company cloud storage archives.
Up-To-The-Minute Reporting and Audits Outside the Office, via Rugged Tablets
Audit time doesn't have to be stressful – nor does an impromptu request for information from management.  By using rugged tablets daily, you can log and track essential data more accurately and efficiently, to give you the "big picture" of what's going on.  Plus, by being closer to the action with the freedom of movement rugged tablets lend, you can "plug and play" many data collection tasks into them and automate more reporting as it develops.  The only other comparable way to add and review your information is through desktop or laptop computers, which due to proximity issues can lead to mistakes.  They also lack the functionality that a rugged tablet would in many cases; for example, many newer models include barcode and RFID scanning, saving time and steps in your reporting process without worry of errors.
The end result?  What's best?  Use rugged tablets to review your internal or external compliance, reduce waste and shrinkage, and/or to help find areas where your warehouse can improve productivity and efficiency.  For the full effect, link them to printers with Bluetooth capabilities, including label printers when cataloging items or paperwork is needed.
Rugged Tablets for Internal and External Communication On-The-Go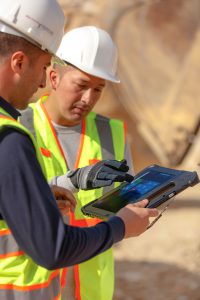 Here's something that deserves more attention (as you'll see).  An often overlooked point is how valuable rugged tablets truly are for sharing, collaborating and managing business as a team.  Rugged tablets can improve communication in the expansive, multifaceted environment that warehouses are, but how they do it is unique to many devices.  Tablets that can run desktop versions, also known as the "full experience" by some app creators, can make a huge difference in terms of how many functions you can get out of them.  For one thing, simple browsers and company databases you access before as ways to communicate, including email, cloud drives, in-house systems and cloud-based software are always at their best when run in their native desktop version.  All of these products and services, simply put are more feature-rich than if operated through a condensed mobile operating system.  Many problems can exist when attempting to run a program on a smaller device that is unable to deliver a quality desktop experience due to screen size, rendering issues or inabilities to run certain extensions and add-ons (like Flash).
You're stuck with a mobile version.
Here's a real-world example;  Is it easier to order extra toppings and add special notes for a pizza, through their online website on your phone or through a computer?  Likewise, is it easier to write blocks of text (that you can also read) through your phone's factory notepad or within a word processor, such as Microsoft word?  The more "in the weeds" you get with opening up and operating an app's features, it just can't compare to a desktop experience, in terms of ease of use, the ability to input data and share all information.
Updates to rugged tablets over the years have started to include the push-to-talk feature and/or cellular service as an optional feature.  Typically, 4G (soon to be 5G) is used to extend connection when internal networks aren't enough.  Though outbound calling through a cell service provider is possible, what is more common is for companies to install 3rd party services/apps within their tablets and other mobile devices to provide an internal, voice-to-voice choice for team outreach.  Nonetheless, with this feature and the many others that are feasible, tablets can bring together a dizzying amount of information and ways to connect to other employees in any department.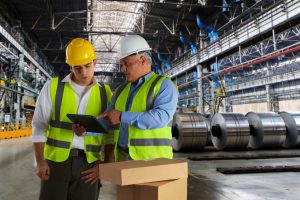 Certain departments can use rugged tablets to better reach employees with their internal programming.  Human resources, for one can be more proactive in how they release company update and make important documentation more widely accessible without asking employees to meet at a centralized location.  This can be very useful in warehouse layouts that don't provide workers with common access to a computer during their shift.  Some companies have made employee time clock systems accessible to rugged tablets as well.  Screensharing, a very popular, always expanding technology for desktop users can make great use out of rugged tablets, making collaboration more interactive and available across entire worksites.  This innovation alone, cultivated over the years will continue to evolve.
You're just able to do "more";  there's no better option for a mobile workstation in the palm of your hand than a rugged tablet.
Best Rugged Tablet For You?
Outside of these thoughts, rugged tablets are used in far more ways than you might think, which is entirely dependent on the unique workflows, production processes and day-to-day operations of the individual warehouses that use them.  The diversity of apps available for rugged tablets makes this possible, as does the amount of accessories that exist today in the marketplace.  Cold storage warehouses might measure temperature and keep tabs on expiration dates on individual perishable items through the freedom of movement rugged tablets make possible.  Online retail industries might have hundreds of thousands of items in million square foot facilities that require a massive fleet of forklifts to navigate, docking rugged tablets to their frame to pinpoint the exact location of items within these mega-facilities.  The idea takes cues from the touchscreens seen in new cars and trucks on the road today.
In essence, you're going to need expertise at your back to understand and integrate exactly what you need in a rugged tablet, to be successful in deploying a new pool of these devices.  Establishing a partnership that includes a trusted rugged tablet manufacturing partner, a well-versed professional services provider of enterprise mobility solutions and yourself is important.  The right combination will bring years of projects, plus the experience in industries like yours, that together will not only meet your expectations, but likely will find other beneficial uses for tablets to greater empower your workforce moving forward.