The ScanOnline One Solution – Mobile Carrier Data Plans for Business Powered by DataXoom™
When a purpose-built, workforce solution is only missing a mobile network connection to be deployed, the three most important words for acquiring data plans are reliability, speed, and cost.  For business customers that are ready to launch, a mobile network carrier's "brand name" is usually secondary; often, billing simplicity is more important.
Why deal with a data carrier that overcomplicates a simple need with complex contracts, hidden charges, unwanted services, and a drawn-out sales process when you don't have to?  After all, you already have the hardware, software, and services behind your purpose-built solution and ONLY want the network.
ScanOnline has partnered with DataXoom™, the frontrunner of B2B mobile carrier data plans for business, to sell directly to our customers ONLY the LTE network(s) they desire, as a part of our ScanOnline One Solution.  Coupled with our portfolio of mobile handhelds and tablets, you now have access to an easy path for connecting new tech, with ScanOnline as your sole provider.
Don't let the carriers determine how you'll use technology that remains separate to their portfolio; take back control of your solutions today.
What's Included:
Mobile Data Plan - MB, GB & TB

DataXoom™ offers fast access to all major US mobile data carriers, without any contracts, taxes, or termination fees.

Our LTE mobile carrier data plans for business are built to fit your specific organization's size, device inventory count & overall need.  Never worry about scaling up or down, as ScanOnline and DataXoom™ will make it work.

Enterprise Mobility Integration Platform: Self-Serve Data Plan Management

The DataXoom's™ Enterprise Mobility Integration (EMI) Platform makes what matters to you, the customer, accessible – allowing for not only ease of access to account information but user-defined control of limits and thresholds related to data use.

Data management of 1-1000+ mobile devices within a single platform
Multiple mobile data carrier management
"Pooled" data management – calibrate & configure data usage across all end-users; avoid data overage penalties
Create mobile data user limits & push notification alerts
Historical reports of overall company data usage & individual user stats
One invoice, always – covers all carriers, add-ons, and users
Account & billing transaction information for all line-items

ScanOnline's professional services are behind you every step of the way.

While DataXoom's™ mobile carrier data offerings are hands-on for customer control, ScanOnline will be your single point of contact for any questions or support on-demand through The ScanOnline Managed Services Group.

Device & Network Monitoring
General Maintenance & System Updates
Tier 2 Technical Support
Repairs & Spare Device Pool Services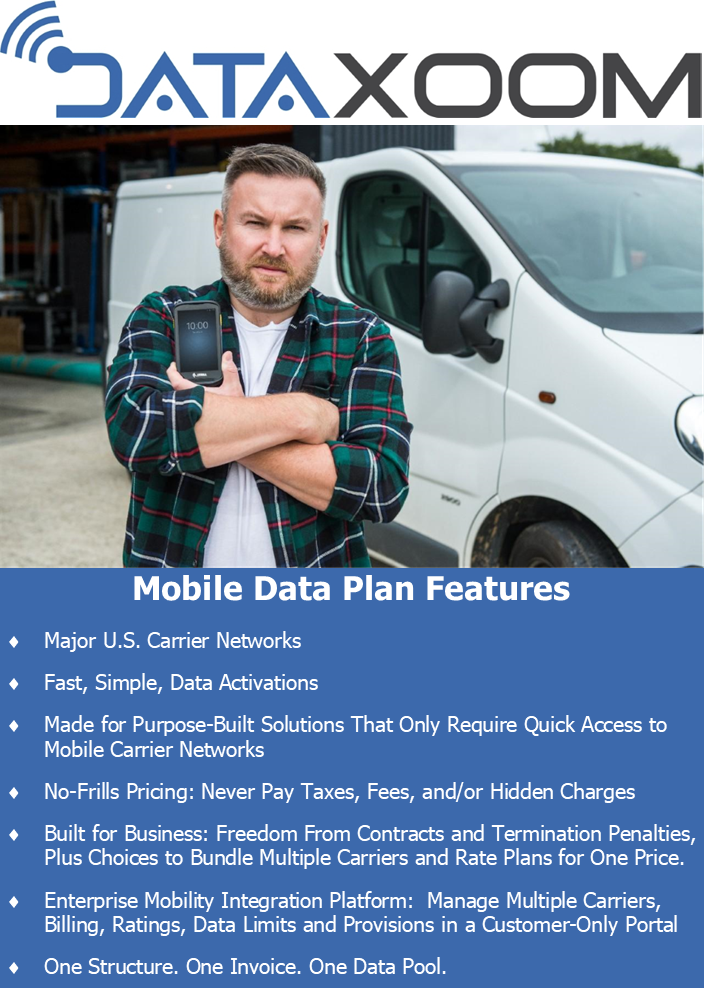 The ScanOnline One Solution
A Custom, All-Inclusive Hardware, Software, and Service Plan
Complete Your Mobile Workforce Solutions With Mobile Carrier Data Plans for Business, Serviced by ScanOnline
Rugged Handheld Devices, Tablets, Barcode & RFID Scanners
Label Printers, Accessories & Supplies
Installation, Configuration & Final Deployment
System Updates, Security Patches, & Optional Add-Ons
Managed Services: Proactive System Monitoring & On-Demand Support
Flexible Billing Options & Leasing Services Available
No Surprises; Bridge Your Tech Gaps Without Worry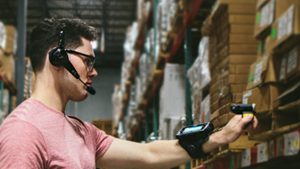 Warehouse/Logistics:  Shipping, receiving, and the logistics in-between have long integrated mobility into a wide array of operations to improve communication, track information, lower costs, and meet business demands.
Real-time location tracking, fleet management, inventory management and e-records are only a sampling of how mobility and IoT have found a place in the T&L field.  DataXoom's™ 4G LTE plans and management platform remove what makes the mobile carrier relationship overcomplicated and deliver to transportation organizations what matters most – reliable, affordable network coverage, that's easy to follow.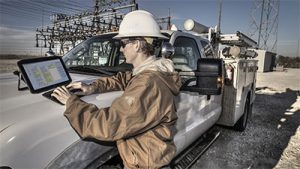 Field Services:  Communication is critical between field services teams and the rest of their business, which are often segmented across many different locations that also vary in terms of the availability of LTE networks.
DataXoom's™ mobile carrier data plans for business are a great fit for the on-the-go nature of field services workers, including their enterprise operations staff.  Greater carrier access can pair workers with the best network by service area without having to broker multiple business arrangements and billing sources.  Plus, managers receive wider control of employee data usage, to help reduce costs and keep communication lines open.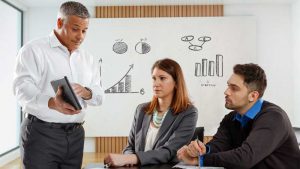 Enterprise:  The number of employer-issued devices across departments grow daily, monthly, or annually for many businesses.  It can be a daunting task for managers to supply, track, and manage mobile data, plus employee's questions.
Today's business requires an inter-connected web of technology; however, cell phones, rugged handhelds, tablets, laptops, and more are often left unchecked until expenses and user violations pile up.  From small businesses to large organizations stretching across the country, DataXoom™ can support the mobile data requirements of all purpose-built devices, while simplifying the control of how it is distributed.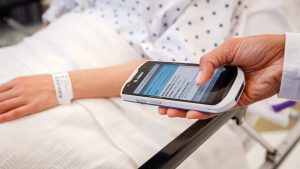 Healthcare:  The symbiotic relationship between patient care, customer service, business operations, and facility management is strengthened by the benefits of IoT solutions in health care clinics and multi-unit campuses.
Ruggedized handheld devices, tablets, mobile cart workstations, and the latest in secured workforce software are unifying every element in healthcare together.  In a vital industry, where collaboration, information sharing, and real-time visibility of patients and their reports can save lives, DataXoom's™ 4G LTE networks serve as the backbone behind it all – cutting costs and centralizing data management in the process.