Mobile Workstations – Features & Benefits
Multiple Configurations & Cart Options

All cart options come with an industry-leading 5-year warranty

Fulfillment Cart – A solution for even the largest facilities.  Best for warehouse/distribution center management, order fulfillment, inventory management, large label printing jobs, material handling, and even human resource tasks.

Training Cart – Built to be versatile for multiple industries, allowing for fixed monitors, printers, laptops, desktop computers.  A great tool for charging mobile handhelds and filling out physical paperwork.

Medical Cart – Designed for multitasking clinical operations. Manage the healthcare needs of patients across many locations and complete tasks in auxiliary facilities, such as stockrooms, pharmacies, and labs.

Retail Cart – Take retail sales to the customer with a mobile solution for check-outs.  Gain oversight of entire retail operations and bring workforce software, online order fulfillment platforms, and scanners wherever you go.

No need for numerous tools or an "industrious" skill set.  Professional installation services also available:

Lightweight parts, strong enough to last
Fast do-it-yourself installation, with services available
Various, customizable cart options by version
Cordless by nature
Fully integrates with wireless networks and workforce hardware

Reduced Material Handling Cost = Instant ROI

DTG's mobile cart workstations have saved warehouse & manufacturing customers 40 seconds per order, resulting in $50,000 per year in annual savings.

$250,000/total savings can be anticipated before batteries need to be replaced!

Optimized Work Environments; Less Team Fatigue

It's simple – DTG's carts move where you do, increasing the efficiency of work tasks, and in turn, reduces the physical wear and tear on employees during a standard work shift.  The reliability and durability of DTG's mobile workstations ensure teams will have a long-lasting tool for better workday outcomes:

Adjustable, ergonomic design
Capable of charging most electronics
Safer work environments
Minimal storage requirements
Decreased downtimes
Stronger records organization
Increased real-time information sharing capabilities

Mobile Cart Workstations The desk for on-the-go workforces – and a docking station for the rugged handhelds, barcode scanners & label printers they rely on.
Definitive Technology Group's Mobile Cart Workstations are a portable solution that consolidates equipment, tech hardware, software, desktop surfaces, and power charging stations together – to aid on-the-go workforces.
Warehouses, manufacturing plants, distribution centers, and other industrial workspaces have fundamentally changed.  The strengths of the Internet of Things have found their way into these facilities to vastly improve the productivity, efficiency, and accuracy of workers – as it relates to the company's revenue-generating missions.
Together, DTG and ScanOnline provide the hardware, software and services behind an all-in-one solution for greater workforce mobility across small and large complexes alike.



The Definitive Battery System
This unique

, multi-faceted m

odular b

attery system is the

1

st

and only to market, configured to meet every workflow,

with several power options.  DTG battery hardware uses lithium-iron-phosphate (LiFE) battery chemistry, outperforming any other mobile charging options while remaining safe for all facilities and users.
Retrofit Batteries to Any Cart – No matter what cart brand you have in-house, ScanOnline and DTG can offer custom racking and fastening solutions to keep your existing cart workstations on the floor.  Learn more about retrofit battery systems here.
Fits Any Make and Model of Mobile Workstation
Swappable for 100% Uptime
Plug-in or Swap to Fully Charge in 2-3 Hrs.
Expand Runtime On-Demand
Industry-Leading 5-Year Warranty for Battery Systems
No Fans, No Fire Hazards, No Problem
Definitive-250 Battery - The Specs

Chemistry:  Lithium-Iron-Phosphate
Capacity:  250Wh Per Battery (Up to 3 Batteries Per Cart = 750Wh)
2-3 Hour Recharge Time
Safety Certifications:  UN38.3, IEC62133, UL2054
Warranty:  Up to 5 Years

Universal Input:  85-264VAC 50/60Hz
Internal Charger:  Recharges the Definitive 250 Battery in 2-3 Hours
Compatible to All Workstations
Backup Battery:  3 Minutes of Additional Power During Hot-Swap
Fanless Design
Safety Certifications:  UL/IEC 60601-1, CAN/CSA 22.2, and Others

Definitive 2 Hour Charger

Used for Hot-Swaps:

3 Charge Postitions
Universal Input:  85-264V, 50/60Hz
WiFi Enabled for Battery Fleet Management
Charge Time:  2-3 Hours
Fanless Design – No Moving Parts, Maintenance & Silent Operator
Safety Certifications:  UL/IEC 60601-1, CAN/CSA 22.2, and Others
Warranty:  5 Years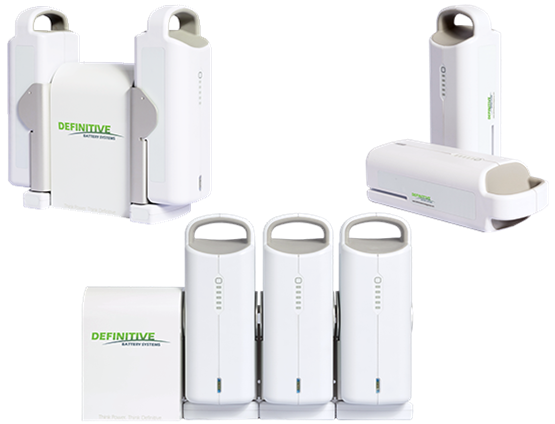 The ScanOnline One Solution
All-Inclusive Hardware, Software, and Service Plans
Build a Complete Mobile Cart Workstation for One Rate
Rugged Handheld Devices, Tablets, Barcode & RFID Scanners
Label Printers, Accessories & Supplies
Installation, Configuration & Final Deployment
System Updates, Security Patches, & Optional Add-Ons
Managed Services: Proactive System Monitoring & On-Demand Support
Flexible Billing Options & Leasing Services Available
No Surprises; Bridge Your Tech Gaps Without Worry