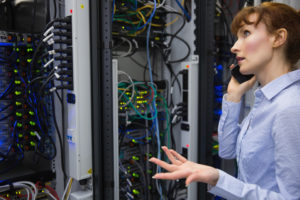 With all of the buzz about mobility and giving enterprises wireless capabilities to accommodate a growing mobile workforce, there is a tendency to think just about the wireless aspect of mobile enterprise applications. But it's important to remember that a solid, scalable network which supports mobility at the enterprise level typically involves some wiring.
If the Internet of Things is to have a place in your organization, then you'll need to maintain connectivity among an increasing number of devices. And the system of cabling and wiring that supports such connectivity is something you will need to consider. Because rarely is a "wireless network" truly wireless.
Why Quality Products Are Key to an Effective Wireless Network
Like the unseen root system of a giant sequoia tree, the cabling that supports your network is vital. As your organization—and your use of mobile devices—grows, the cabling in your facility will be called upon to support increasing numbers of wireless devices. More access points will be needed to keep them all connected and fully functioning, with no lost data or missed communications.
One particular advantage of a wired infrastructure is the control that it gives you. When the only access to your corporate network is via a physical connection, you retain full authority over who gets in and who does not. Thus, not only are unauthorized individuals kept out of your network, but your business activity will also be unhampered by excess traffic.
To get the advantages inherent in both wired and wireless systems, you may find that integrating your wired infrastructure with wireless LAN is the way to go. This will ensure security and reliability while still meeting the needs of your mobile workforce.
You can expect excellent reliability and speed from a wireless network built on superior products. That's why ScanOnline uses high quality products from Zebra that provide optimal performance and the connectivity you need to keep your mobile staff productive.
Key Qualities to Look for in a Wireless LAN Vendor
Implementing a stable and reliable LAN is crucial. And it's important to choose a vendor who can customize features to your company's unique needs. This can save your IT staff time and save your organization money. With the right vendor, user onboarding will be easier, as will security maintenance and the overall management of your system.
Before shopping for vendors, first assess your needs to determine which features your business needs the most. For instance, do you foresee the need for advanced capabilities to accommodate a growing BYOD trend among your employees?
Or maybe your top concern is keeping company and customer data safe. What advanced security features will this require? Whatever your needs, make a list of features you feel will be critical. This should keep you from being overwhelmed by your options and help to make your decisions easier.
Managed Services – The Watchdog of your Network
After evaluating your needs, it's also a good idea to conduct research to be sure the vendor you select is knowledgeable, stable, and profitable, so you know they'll be there for support long after the sale.  Of course you will get a general basis for support under your agreements, but there are other steps you can take to ensure your capital investments are protected and utilized the right way.  Managed services are growing in adaptation within wireless network infrastructure providers to further establish formalized support and communication lines on a contracted or on-demand basis.  More or less, as the structure and responsibilities may vary by vendor, managed services is a dedicated unit of support agents that have the main role of conducting proactive maintenance, monitoring and management tasks around systems in place – in this case, around the total wireless network lifecycle.
In most situations, managed services can help any company regardless of working together in the past, whether the systems and technology were originally sourced from the managed services company or was purchased elsewhere.  It is, however of great benefit to hire a managed services team directly through the same provider of your wireless hardware and/or component software since they will be more familiar with all the mentioned and any specific information as to how the organization runs to shorten learning curves or steps back to figuring out service needs.  ScanOnline, for one is able to offer a complete site survey, design, installation, configuration and managed services – perfect for companies trying to forge a comprehensive wireless network infrastructure strategy.
Experts matter.  Hardware matters.  Scalability (and knowing your future) matters.  Do your research; the next one, five, and/or ten years depend on it.