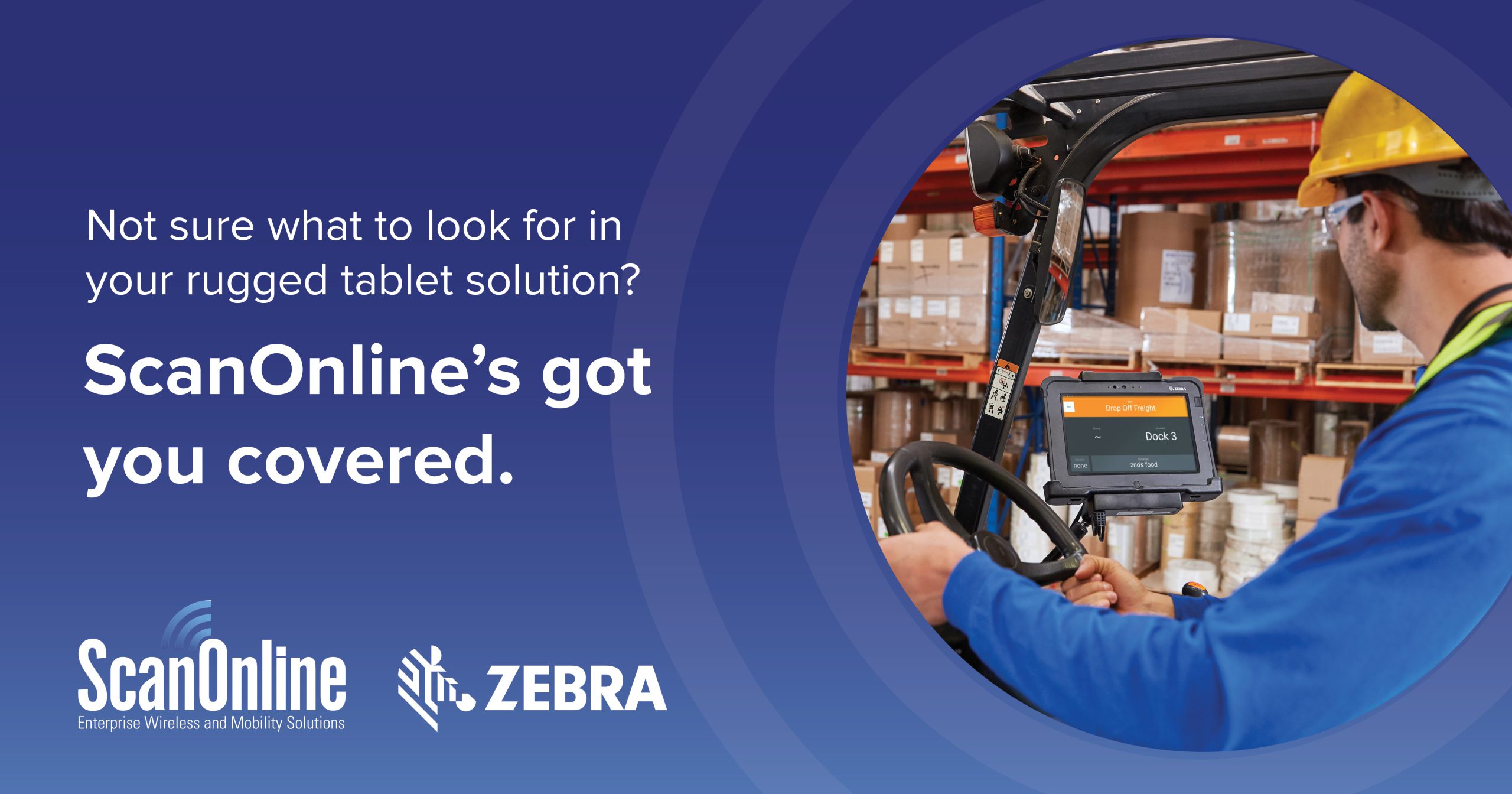 Just a few years back, the concept of a tablet in an enterprise setting might have seemed foreign and counterproductive. However, thanks to great advances in rugged touchscreen technology and automation intelligence, enterprise tablet acquisition has increased, with a global market share surpassing $800 million in 2020. Studies indicate that an average of six out of ten warehouses are actively planning to integrate tablets into their workflows by the end of 2022. As multiple leading manufacturers develop a variety of rugged tablets, the path to tailored optimization may become complex with countless options. To simplify procurement for top decision makers, the following three questions should be considered prior to purchasing:
1.) What's being unboxed?
When it comes to modernizing the warehouse, bigger isn't necessarily always better. Large bulky devices complicate workflows since workers need to travel with them around the facility. Below are a few popular specs to note in your potential tablet:
OS Performance – While Windows has gained traction in the enterprise space, Android offers continuous security support through recurrent updates. Moreover, Android's open ecosystem enables maximized performance as you can add preferred apps without complicated re-coding and constraints present in other systems like iOS.
Connectivity – To eliminate the need for additional communication devices like 2-way radios, check to see if push-to-talk capabilities are included in your tablet along with flexible connectivity options for on-the-road applications. For example, Zebra's L10 tablet supports cellular, 5G, Bluetooth, and WiFi connectivity for maximum flexibility in any workspace.
Battery Power – Stringent work environments such as food packaging and cold storage require strengthened batteries that outlast shifts to ensure unbroken visibility. Battery management applications like Zebra's PowerPrecision and hot-swappable batteries have helped tablets last beyond 24 hours, eliminating an extra stress from your fast-paced workforce.
Durability Standards – Lastly, rugged tablets must earn the "rugged" name by passing through acceptable durability standards such as military-grade standards. Furthermore, higher drop and tumble specifications prepare devices for continuous use in case of an accident, while waterproof, dust-proof, and scratch-proof designs ensure tablets may be used in more challenging outdoor environments.
2.) Which processes will the tablet benefit?
Expanding on the functionality of a mobile computer, enterprise tablets may be used in different applications to facilitate data processing, reporting, and operational visibility. By targeting affected workflows beforehand, you can make sure your tablet yields the correct results to benefit overall goals such as:
Streamlined pick-and-pack – Order fulfillment takes up over half of total operational expenses. By combining data capture, reporting, communication, and inventory visibility through one user-friendly terminal, warehouses can lower TCO while accelerating picking and packing with less errors.
Transparent inventory management – Fast data capture enables faster inventory updates, thus reducing instances of out-of-stocks. Clear inventory visibility also enables trusted traceability to facilitate future audits since operators can get an at-a-glance view of inventory location and status.
Connected e-commerce transactions – Today's customers expect to be able to track their orders in real-time, creating a pressure for greater operational visibility. A rugged tablet allows workers to update orders as they pass through different steps in the order fulfillment process, providing customers with the ability to track purchases while also verifying order accuracy throughout the process.
Digitized WMS updates – Tablets like the R12 Rugged Tablets are already equipped with an embedded intelligent scanner, capturing barcodes and translating them straight into your WMS without any complex manual processes.
3.) How can you support tablet integration without disrupting current workflows?
Many warehouses avoid modernization plans out of fears of complex implementation. This is where having a dedicated technology team is vital to alleviate pressures from your IT department. For example, ScanOnline's One Solution as-a-service plan supports your team with:
Assisted hardware procurement and configuration to ensure your workflows are paired with the correct devices and software for faster implementation and user adoption. As an experienced solution provider, our teams collaborate with leading tech players to customize and implement plans that address today and tomorrow's workforce challenges.
Regularly scheduled, managed maintenance plans certify technologies are running at their most optimal levels, while protecting them from both common and complex threats. This is done through offering real-time system monitoring, proactive maintenance, 24/7 tech support, critical security patches and timely firmware updates as they come available.
Quicker repairs for less downtime prevent lost revenue over time. Moreover, by working with a hardware provider that offers a flat-rate repair depot, as well as spare pool services, your teams can count on unbroken productivity and less surprise expenses whenever devices need to be serviced.
The three considerations above provide a foundation to consider when assessing potential rugged tablets. However, to best ease implementation and higher ROI, experts recommend setting up a workflow assessment to pinpoint which parts of your facility could best benefit from intelligent automation. In doing so, businesses can scale automation initiatives by first securing at-risk departments that will support further optimization, ultimately resulting in a long-lasting rugged solution that empowers efficiency and competitive productivity.