Never fear Mobile Device Management with the right provider and a strategy you can understand
As the world's business embraces enterprise mobility, mobile device management and our organizational needs becomes more complex, it may seem that hiring a full IT department to support it all is a foregone conclusion.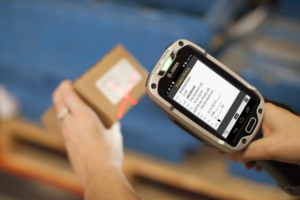 Just the device management aspects alone can feel like a logistical nightmare.  Specifically to mobility, knowing how to configure, update and manage enterprise mobile devices used in the field and the company's work sites can be a handful.  But, handling the physical condition of your mobile device inventory, keeping tabs on its location and the administration around their use takes even more planning – and dependent on the situation, outside assistance.

Yet, mobile device management (MDM) doesn't have to come with extensive headaches or an IT department at all in many cases.  Here are three questions, followed by answers for ways a competent provider of enterprise mobility tools, software and services can solve your device management problems:
Q:  Is a Painless Deployment Process Possible?
Let's face it – if done properly, nobody enjoys deploying mobile devices or strategies and/or software around mobile device management.  While it's a necessary evil to keep your employees productive and your network running at peak levels, it also requires some thoughtfulness from the start and comprehensive monitoring to ensure that all enterprise mobile devices are running smoothly.  
A:  Painless, no, but manageable and simple, yes.  Configuring/calibrating mobile workforce computers and other mobile devices to fit specific workflows of employes quite often can be handled entirely by the provider of the technology, given the right one is sourced out, such as ScanOnline.  Most devices can have company applications, device features and modifications to be installed across all within mere minutes, given experts are behind the wheel to make it happen.  Otherwise, it could be days, weeks or even months for untrained, non-technical employees to get their workforce devices to operate the way they need them to.  Think of the business that can be lost from downtimes or steps back in processing such company operations as order processing, manufacturing production, customer service and/or data collection?  Can you afford it?  Moreover, taking away mission critical IT team members from other tasks to aid in deployments (especially if untrained in how to manage the specific enterprise mobile device)  can hurt the business.
Q:  Speaking of, are there any simple Remote Management (RMM) solutions available?
Remote management, or RMM as it is commonly referred is the process of overcoming mobile technology issues from another location wirelessly, which are generally handled through a virtual support help-desk.  RMM can also identify if physical repairs may be needed, dependent on the results from troubleshooting.  If RMM tasks are handled internally, this can be another headache that an IT department simply does not need, especially when there are help desk related tasks piling up and not enough manpower to clear the queue.   
A:  As far as back-end, around the clock accountability of the devices, organizations like SOTI offer mobile device management software to enable the user to install and manage the full time monitoring of enterprise devices currently in use by the company.  
Cyclical maintenance and 24/7 security can be determined within an easy to use dashboard for anyone from any tech background.  But, the easiest and likely most helpful solution will come in the name of hiring a managed services group as an extension to the company, to be a "seen but not heard" support service.  
At rates that will cost less over time than hiring salary staff and/or acquiring one-time repair and maintenance services, managed services handles the entirety of that workload.  The right managed services provider will monitor 24/7 workforce devices and has the capabilities to work independently from the company to fix ailing devices without any fanfare or involvement many times of their clients.  If there is any worry around diminishing responsibilities of an IT department already in place, managed services only focuses on those areas for which there maybe a need or for which they are contracted – often working hand in hand with the client's IT department to answer challenges that may arise over time.
Q:  That all sounds great, but I have many devices in circulation.  How do I keep up with it all?
Another frustrating part of mobile device management is keeping up with all the necessary upgrades across your network.  Keeping up with all of those printers, routers, mobile computers and other equipment is a virtually endless task.  Lest not forget, what is current today may not be tomorrow and to be fully secure from a network and device standpoint, consistent updates are necessary to meet that demand.  Missing a patch can be the difference between an operating device, system or network going down and thousands of dollars lost from one simple breach or downtime period.
A:  As alluded to multiple times, the provider, simply put matters.  There are a number of software options and services that can automate every device you utilize.  Between the above strategies or a combination of options, choosing the right provider to scope and provide a roadmap for how you get the most out of your resources.  Never fear your ambitions to scaling your enterprise mobility capabilities; what is enterprise mobility anyway if growing your use of mobility doesn't make your work-life easier?
Going it alone however can prove to be costly if you are not completely sure of how to approach wireless in the workplace; take the guesswork out of the equation!