Barcodes were definitely not designed to be a source of frustration for your organization and your employees, yet it may certainly feel that way if you're dealing with outdated technology.

Yet, even the best mobile scanners and barcode readers in the world will frequently fail if you don't have a quality label, right hardware and/or software to begin with.  The secret is truly (and still) in the type of label supplies, the abilities and the age of the label printer you work with. Though this can be achieved through research, you'll see that bringing in outside expertise is vital.
First, let's talk about what you can be doing to generate better labels, in the present.
Label Creation and Design


The main problem with barcode printing is often found in the early stages of purchasing and configuring hardware/software itself; between modern label creation, hardware and your software, sometimes the combination of features and needs don't mesh.
Does your hardware create the right labels in the right format and are capable of being registered by scanners?  Is your software
pulling the right information to accurately design the label, while creating the "look and feel" of the label that fits your brand?  Is either sophisticated enough to match today's trends?  You'll need to understand all parts of the process, from design, to purpose, to tech.
Finding a provider that has vast experience/knowledge in barcoding is equally, if not more important than fielding the latest technology for purchase.  You'll need guidance and support before, during, and after you implement what-have-you technologies and services for label creation.  Don't worry, it's common to not know the right label printing tech, but to remedy this you will need to find answers to questions that may or may not jump out at you at once, which will save on costs and frustrations.  These answers, simply put come from data collection specialist with bar-coding backgrounds that have seen it all.
Using the Proper Print Media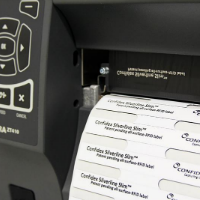 We see it all the time; organizations invest heavily in advanced technology and then order generic thermal ribbons or printer ink to save, in the end only a moderate to minimal amount.  It isn't a coincidence that compatibility issues arise from the materials not matching up.  Those dollars saved?  Lost, and worse, more ends up being spent in unnecessary downtime, maintenance issues and lost productivity.  
Needless to say, always ensure that you're using genuine materials designed for your specific printer.  If you're looking to make a change from something that was even working well for you, you will need to make sure all components will work in tandem, and that isn't left on simply the label alone.
Outdated Printers & Scanners
Though the idea of the barcode and barcode scanning may not be a new innovation, the industry technology as-a-whole evolves every year.  

Modern barcode printers are extremely versatile when it comes to their accessibility, mobility and management.  Not to mention, their overall printing speeds and print quality far surpass what they were capable of, even as short as a few years previous. Upgrading can also help streamline a number of processes and gain the ability to print on site or on the go, depending on your actual organizational needs.  
Not all companies need to upgrade their label printers – sure, why dip in to funds that can go in other areas if it isn't needed? But, what can be lost on an organization that utilizes label printing in their mix is investing time in staying current on advances in label printing software or hardware, much of which can help with operations from a cost and/or productivity standpoint.  It's easy to get comfortable when things are adequate, yet staying competitive in business of any sort sometimes takes reinventing parts of the process to improve and, in the end drum up higher revenues.  Again, where staying engaged with an expert can help shed light, being they are always entrenched in "all things barcoding".
What have we learned?  Choosing the right barcode setup can be frustrating and stressful as can be maintenance tasks, but barcode experts and their guidance in finding the best in label printing for your specific enviroment is invaluable.