In this edition of our staff spotlight piece, we have the benefit of timing in our corner, as Jamie Swanson has just completed the requirements to earn the rank of PMP.  The Project Management Professional certification process is widely considered across all industries and internationally as a challenging process, with rich benefits upon completion.  
Multiple experience-based requirements and months of study are generally required in advance of taking the PMP exam. It's these reasons that make ScanOnline especially proud of Jamie's accomplishments.
The role Jamie plays is infinitely important.  Many stakeholders may never see what the wizard does behind the curtain, when it comes to building an enterprise's network, but it takes many hands, multiple levels of expertise and the buy-in of all parties when it's all said and done.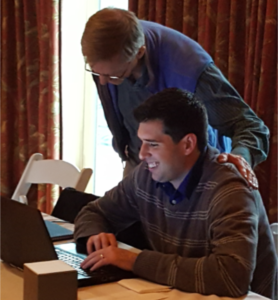 Swanson, in so few words, is the quarterback behind the project. Jamie takes into account, within drafting a comprehensive scope of work, many discovery calls, the expectations of the end user, physical worksite factors, network site surveys, outside resource needs, time and budget requirements and so much more.  Even with vast amounts of preparation, Swanson's role requires a great deal of patience and the understanding that changes to the scope are not only possible, but should be expected as the process moves forward. A quick survey around the office would yield that Jamie handles it all admirably, and with a professionalism that many under the same amount of stress would be hard pressed to carry on.
How did we become fortunate to have Jamie onboard?  With the expansion of ScanOnline's business across the board over the past 3 years, especially in enterprise network opportunities, it became evident that more resources were required to handle the breadth of enterprise networking projects.  ScanOnline had already begun to expand into managed services, which supplied a dedicated support arm to customers, but a qualified network project manager was equally as critical to acquire.
There was some familiarity with Swanson, as members of the management team and Jamie had a light relationship as business partners previous to striking a deal to come on full time with ScanOnline.  "ScanOnline is built upon an amazing team that works together to deliver services," states Swanson. "I recognized that before I was hired on as a project manager in dealing with ScanOnline and their services as a business customer."
It's also that familiarity that led to his job offer.  Much of the stress derived around major network projects that previously was handled by a triumvirate of staff in bits and pieces was now owned entirely by Jamie – and with relative ease.  Yet, Jamie is quick to mention to others that the team he works with and everyone who has helped grow ScanOnline to what it is today, is what makes his job rewarding.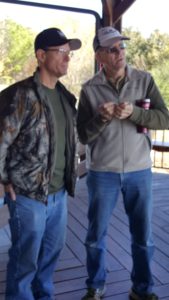 In his almost 2 year term within his role, Jamie has already taken the lead by managing a number of large scale WLAN installation projects that required just about every skill he has to offer.  Though his largest installation of 292 retail stores was memorable to him, Jamie's fondest project actually spotlights his ability to work under pressure.  "My favorite success was a smaller project that we put together quickly and executed on a tight time table in the fall. Over 40 sites across the US and Canada were planned and completed with the space of a few months. The project received high praise from the organization's leadership."  
It's no wonder the rave reviews pour in.  Jamie's humility, relaxed demeanor and promptness fits in well within the culture of customer-first service ScanOnline strives to maintain.
As for his freetime, Swanson is as passionate about his hobbies as he is for his job.  Jamie is a licenced pilot, taking to the skys for recreation and travel whenever a possibility.  Originally a native of Princeton, MN and now currently of Indian Trail, NC, Jamie loves outdoor pursuits, taking on new hobbies, and DIY projects of all sorts.  With all of the unique activities he has on his plate, Jamie still finds time to exercise. Often times, Jamie makes the most out of his noon break, fitting in time to get out of the office to run under the summer heat and still grab lunch.
Moving into the end of 2018 and into 2019, ScanOnline has continued to invest in more resources around enterprise networking, including new hires and strengthening existing manufacturer relationships.  It remains an important part of our business and as the department grows, it will provide customers with more avenues to go down to improve their entire infrastructure with one provider. All the while, Jamie will remain a vital asset, who continues to hone in all the key elements behind the scenes, to deploy high performance enterprise networks that check all the boxes, with a flare of overboard customer service.