Think of the relative that everyone knows will bring energy to the room during the holidays; when it comes to ScanOnline, our pick is Jon Martin.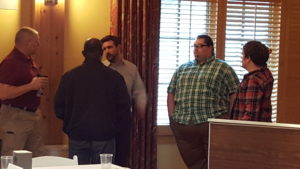 Jon is the Managed Services Group Manager, the leader behind all of the department's operations.  It's his mission as team leader to provide front-line support for our customer's mobile device and/or wireless network inquiries, as well as to support and manage the rest of the MSG.  Part of his role maybe to ensure the monitoring and support processes are continuously carried out without worry, but it is his overall skill set and general "all hands on deck" approach to his job that sets him apart from MSG managers elsewhere.
When asked about what he liked most about his role, Jon says it's his team:
"They (MSG technicians) have each jumped into a field that few understand and learned how to help our customers in what most would consider a dizzying array of products.  From Android Devices to Zebra Printers"
Jon has great confidence in his techs to not only find root issues to customer support requests, but to proactively pursue solutions to problems not even in existence.  Jon takes a lead role on calls and meetings to help customers directly, knowing that if pulled away from the team, MSG can handle anything.
By being so close to everything happening with managed services, Jon has given valuable insight in how to grow and improve the department, since being a flagship member of the managed services group that launched two years ago. From that time to today, Jon has set the mold in how to get the most out of not only himself, but his whole team.  Jon is very good at placing team members in situations where they will succeed and is willing to pick up any task that needs a set of hands, whether resources or additional knowledge is required.  Martin puts a great deal of emphasis in continuing education, understanding the demands that Android is now placing on mobile tech gurus alike: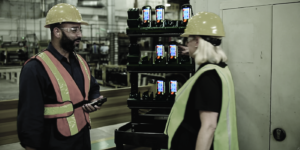 "The market is taking a very drastic turn toward Android devices and many of our partners are currently working with Android versions of the classic MC form factor made by Zebra.  It's an exciting and scary new direction for many of our new customers.  But we leap to the challenge and offer solutions for existing telnet users to be able to evolve their environments with these challenging times."
But back to Jon, the individual.  There's two sides to Martin; there's the professional, customer service virtuoso that he is… and there's also the driven, company-first teammate, who's fun to be around and extremely approachable.
Jon keeps things entertaining and light, with the many walks of life employed at ScanOnline.  It's not hard to understand why others appreciate him; Jon makes everyone's roles and responsibilities feel important outside of his department.  This quality means a great deal, considering how many tech-heavy organizations worldwide have divides between its services teams from its client facing components, which can breed mistrust and resentment.  Making your mark on the company and working together on expanding its mission is far more important to Jon – he is always one of the first to step up when an important cross functional role presents itself, only further explaining why he is valuable to the company at large.
In regards to the other side of Jon – his elite customer service acumen, we put it up against anyone's best.  The nature of work that managed services takes on lends itself to the possibility of customers on the other line feeling pressure internally to get resolution to support matters quickly.  Sometimes, because of timeliness, the customer needs peace of mind just as much as the conflict management they require – we can understand that.  Yet, Jon is never flustered and/or perplexed, just happy to help when he can.  Naturally, his favorite success story isn't a story at all, but a number of similar customer interactions.  "Every Mobicontrol conversion we have ever done!" Notes Jon.  "Each has its own Challenges but the reward of seeing a seamless transition from an existing process to a streamlined client experience and the appreciation of the customers when they realize how much work has been taken of their shoulders in the day to day routine is something I truly enjoy."
Martin is always an active participant with every customer interaction he has, taking very seriously every point the customer notes, for which follow up is required.  His level of technical prowess, mixed with a careful balance of professionalism and casual tone, makes him both reliable and relatable.  If there were more Jon Martin's, the shattering of stereotypes built up for years against IT support teams would be easy.
The volume of rave reviews on Jon's work, directly from customers, second-hand from the sales team, up to our manufacturing partners are plentiful, but once again he'll be the first one to say his team deserves – and earns great praise as well.  It's this selflessness, the reasons previously listed, and so many more that make us proud to call Jon Martin the captain of an critical, integral piece to our business.