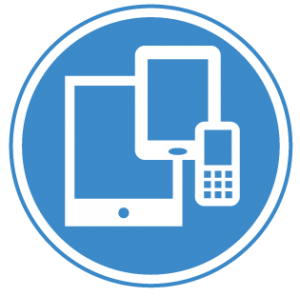 Mobile devices in modern workplaces have two common, core functions:  one part communication channel, one part mobile workstation.  They have truly become all-in-one necessities across all industries and across all departments.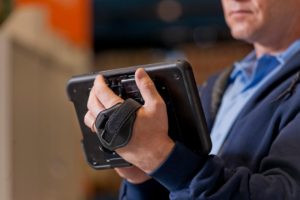 With critical company operations handled in the pockets or palms of so many, user and access control becomes a concern in regards to your network and data.  Not to mention, "mobility" has a high price tag – users need to be tracked as well as the handheld devices themselves, including their current location, physical device condition and any scheduled updates/maintenance.
As an administrator of mobility and/or your company content, ScanOnline's Mobile Device Management (MDM) services and solutions turns control back over to you.
ScanOnline Mobile Device Management At-A-Glance
SOTI MobiControl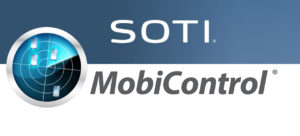 SOTI's MobiControl is the very best in enterprise mobility management (EMM) platforms on the market today.  Mobile device management has never been easier to understand and automate throughout the lifecycle of your enterprise and consumer grade devices.
By being platform and OS agnostic, MobiControl can manage enterprise and employee's personal mobile devices.  Feel free to issue corporate devices to employees or establish a bring your own device (BYOD) policy, as you, the admin can now have eyes on every device you desire.  See SOTI Mobicontrol brochure.
Key Features: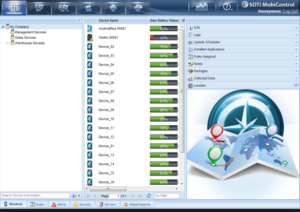 Device Provisioning
Device Enrollment
Device Management
Security/Compliance
Application Management
Content Management
Device Retirement
The ScanOnline Managed Services Group - MDM, Services, Support

The ScanOnline Managed Services group can be the only resource you need to handle all of your mobile device's physical and management needs.
Our Lifecycle Mobile package include contracted services in MDM and Device Maintenance.  From end-to-end the ScanOnline MSG team extends the overall life of your handhelds, while providing proactive support and maintenance that optimizes their overall performance.  Real-time mobility management, device tracking, device troubleshooting and tier 2 support capabilities are also offered on-site or remotely.
LifeCycle Mobile's MDM Features
Mobile Package Creation – ScanOnline will build a custom solution for your device(s) based on needs.
Theft Deterrence – Geofencing functionality is installed into your device(s) for pin-point device tracking
Network Configuration – Seamless integration of your devices into one, some, or all of your networks; your choice.
Mobile Device Management Software Configuration – Installation of MDM applications/software for client hosted management of device(s).
BYOD – Establishment of a BYOD strategy; controls build around company infrastructure security
LifeCycle Mobile's Maintenance Features
Spare Pool Services – ScanOnline can ship, same day, on-reserve pre-configured spare devices from our inventory warehouse while repairs are made on devices that need service.
Repair Management – We manage the OEM Repair process for all of your OEM Devices

First-level diagnostics with No-Trouble-Found analysis and reporting
Authorized "Break/Fix" services on hardware
Device refurbishment
Guaranteed 3-day repair on most devices
24/7 visibility into repair process, root causes, and repair history

Tier 2 Technical Support – For on-demand, more intensive repair orders, our Tier2 support response can be enacted at a moment's notice.  Ask about our 8/5 and 24/7 options.
Who We Are - ScanOnline
Since 1999, ScanOnline has provided end-to-end wireless network and enterprise mobility solutions for on-the-go workforces.  Our expertise in wireless LAN infrastructure and mobile workforce devices include professional services in system design, site surveys, installation, configuration and final integrity testing.  We strive, to create fully connected, unrestricted workforces that can perform job tasks from anywhere, through the modern strengths of wireless enterprise-class technology and the Internet of Things.
The ScanOnline Managed Services Group can provide the critical support needed to proactively monitor, manage and update your workforce hardware in service, 24/7.