BarTender Label Creation Software extends to enterprises a solution they all share a need for – the creation of unique labels to properly identify assets, inventory and/or finished products.
No matter the industry, BarTender can be integrated to fit any label design and compliance requirements.
---
What BarTender Can Do:

Design Labels
Customize print labels, cards, IDs, mag stripe cards and more…
  Design labels, make them yours and let your brand stand out
Create data-entry forms for data validation…
  Accept print-time input from barcode scanning or manual keyboard entries
Encode RFID labels…
  Allow free flowing of inventory and products with your created RFID labels
---
Automate Processes
Easy to use templates…
Reduce design efforts and the maintenance behind updating labels thereafter
Automatic printing settings…
Save time and coordinate printing against real-time data transactions with your OS, system or device of choice
Track & Monitor Activity…
View live-time print statuses, get system usage reports, and secure label creation settings with user and group roles
---
Integrate Systems
Centralized Management…
Browser-based printing, centralized template storage, electronic signature support, smart card encoding and more
Operating System Flexibility…
iOS and Android compatible – print from anywhere with the BarTender Print Portal App
System Integrations…
SAP and Oracle accepted, plus print against requests from web service API or TCP/IP communication
---
What Edition is Best for You?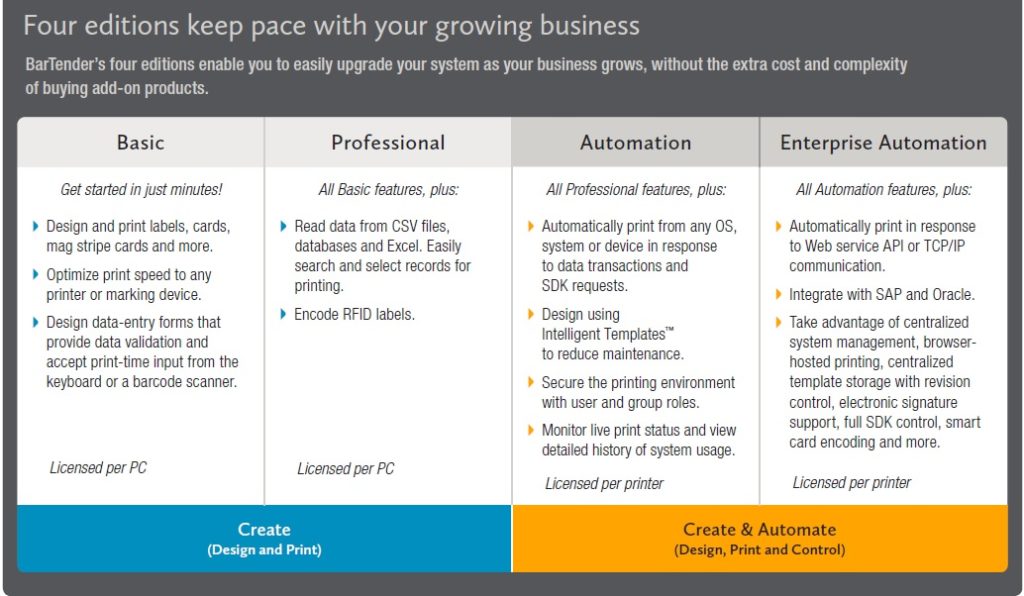 Have BarTender?  Looking to upgrade?  Both new and existing users, let's work together to figure out the right version for your unique work environment.
Demo BarTender  Upgrade My Current Version
---